採血管に予め貼られたプリバーコードを読み取って患者と紐づけ
プリバーコード採血管と通常の採血管の両方を同時に発行が可能
発行された採血管のプリバーコード情報は上位システムにリアルタイムで送信
バーコード情報は患者単位でタブレットPCにて詳細を確認可能
採血管毎にプリバーコード値の特定桁をチェックする採血管の間違い防止機能
ホストコンピュータとの接続:TCP/IP
標準ソフトウェア
・ラベル再発行
・緊急割込み
・病棟別発行
・各種統計
・ラベル貼付け位置を容器ごと任意設定可能
・ラベル印字レイアウトを容器ごと任意設定可能
電源: 単相AC100~240V 50/60Hz 消費電力 600W
外形寸法: 450(W) 830(D) 1070(H)  ディスプレーを含まず
重量: 150Kg
●外観、仕様は改良のため予告なく変更する場合があります。予めご了承下さい。
Specifications
Applicable Test Tubes
Diameter 12-18mm, Length 75-110mm
Can use Rubber, Film, Plastic, and none closure type tubes.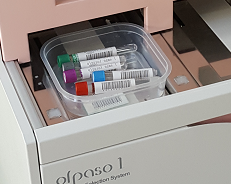 16sec/patient when processing 4tubes
Test Tube Capacity
Up to 8 different types
Max. 100 tubes / 1 type
Tray Capacity
Empty Tray Stack : Max. 30 trays (olpaso1)
Prepared Tray Stack : Max. 20 trays (olpaso1)
Prepared Tray on Standby (No stack) : Max. 3 trays
Print Method&nbsp
Direct Thermal
Print Dot Density
12dot/mm
Printable Items
Characters: Alphanumeric, Kana, Kanji (Mincho, Gothic), Hangul,Chinese
Barcode: Nw7 (Codabar),Code39,Code128,2of5,Jan,QR,etc
Print Functions
 Rotations: 90/180/270deg,Reverse print,Shaded print,Line,Extended characters registration.
Printer Diagnosis
Paper out,Print head open,Print head burn-out
Label
32*53,30*50mm,3000/rol
Verification Functions
Barcode verification,Error labeling detection
Prebarcodes Handling Function
A function to read barcodes preliminarily printed on blood collection tubes and link them to appropriate patients
Capable of preparing both prebarcoded tubes and normal tubes plus an instruction label in a tray simultaneously.
Transmits the issued prebarcode data to HIS/LIS on a real-time basis.
Possible to check the barcode information in detail on tablet PCs by patient.
Possible to register any prebarcode data by scanning manually it.
Prevents wrong tubes being mixed by checking a specified digit(s) of prebarcodes per tube.
Standard Software / Bundled Software
Connection with a host computer:TCP/IP, RS-232C
Label reprint (reissue),Emergency interrupt,Tube preparation by wards,Various statistics
Labeling position settable by tube types.Label print layout settable by tube types.
Power Supply
Single phase,AC100-240v,50-60H/z
Power consumption:600w
Dimensions
450W×830D×1070H mm, exclude display
Weight:150Kg
*All specifications are subject to change without prior notice.